Services
Friendship. Love. Laughter. Respect. Dignity.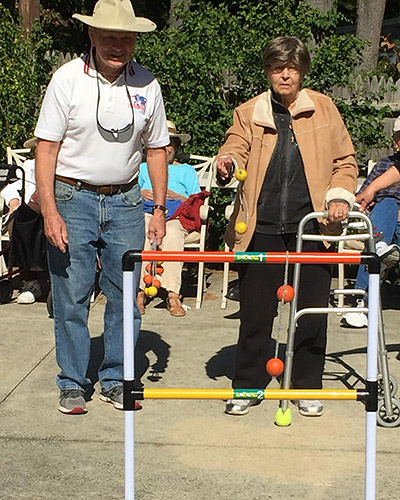 These are just a few of the rewards waiting for older adults who participate in the daily programs provided by The Julia Ruth House Adult Day Center in Westwood, MA.

People of all ages must remain active mentally and physically to ensure quality of life. At The Julia Ruth House, our mission is to promote the dignity and well-being of each individual, and to help people live richer, fuller lives.

Our senior day program is designed to meet the educational, physical, social and personal needs of each participant. We honor the dignity of our guests by recognizing their individual needs, and we offer a wide range of services to meet those needs.

We provide guests with a stimulating learning experience in a spacious, safe, non-institutional environment. The ambiance and warmth of our lovely, historic home boasts large rooms filled with many antiques and numerous fireplaces. This wonderful setting promises to make each guest feel like they are visiting a fine inn each day, with all the comforts of home, in the company of their peers. At the same time they will learn to adjust to the aging process and their loss of certain life skills.

Our activities range from exercise, gardening and reading to music appreciation and movies. All of our programs are flexible, tailored to the talents and interests of our guests. We are open from 7:30 a.m. to 5:00 p.m., Monday through Friday. We offer breakfast, lunch and high tea in the afternoon.

Here is a partial list of the adult daycare and other services and opportunities we offer:

Case Management & Education
Exercise
Nutritional Counseling
Nutritious Meals and Refreshments
Entertainment and Activities
Opportunities for Socialization

We welcome you to visit with us and see if our services are right for you or your loved one.

Serving older adults from the towns of Westwood, Needham, Norwood, Medfield, Walpole, Dover, West Roxbury, Roslindale, Canton, Wellesley and more at the best senior day care center in Massachusetts.
Our Massachusetts Adult Day Social Center is wheelchair accessible.